In Pit Lane is delighted to announce that "2019 Motorsports FanZone" at Crown Melbourne has signed on as the main naming rights sponsor for series one 2019.
The new series begins in March on Australia's most watched community television station C31 Melbourne and live on the In Pit Lane YouTube channel.
The 2019 Motorsport FanZone at Crown Melbourne will give local race fans the first opportunity to purchase 2019 Formula One Team & Driver Merchandise.
The event / activation spans along the Crown Riverside Promenade runs from March 8 through until March 19 and features all main Formula 1 Team Merchandise displays of Production Cars, Race Cars, Motorsport Live Artists & Memorabilia.
Troy Schembri of Rapid Events who has run the Motorsports FanZone at Crown since 2014 said that support of In Pit Lane was a great fit for the event.
"The Motorsports FanZone @ Crown Riverside Promenade is designed with the vision of capturing the excitement of the Australian Grand Prix, bringing it to the heart of Melbourne CBD and combining it with F1 Car Displays, entertainment along with the latest merchandise range to create a truly interactive event, the concept is to unite the emotions of all in attendance during this truly exciting international event".
"The support of In Pit Lane will now also give us the opportunity to target a large audience of hard core Australian Motorsports Drivers / Fans, where they can come down to the Motorsports FanZone and be a part of the a recording of In Pit Lane, during Moomba Weekend".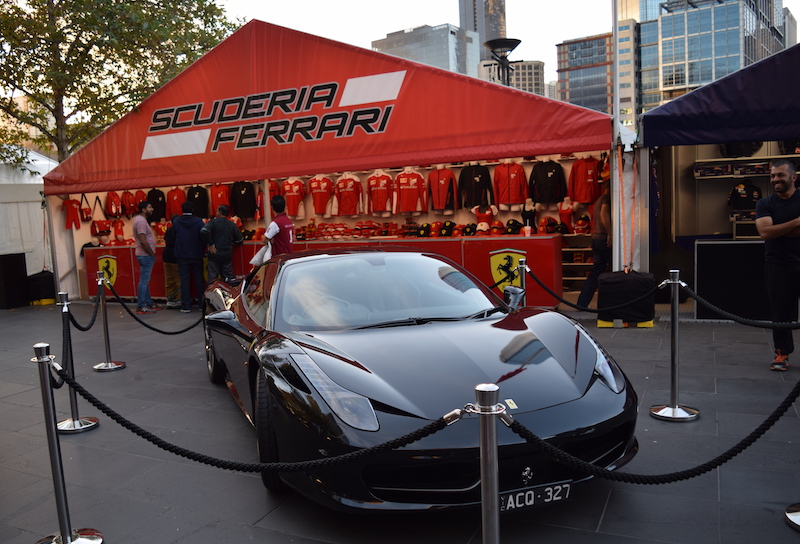 In Pit Lane host and producer Brett Ramsey said that he and the show's all volunteer crew were delighted to have the support of the 2019 Motorsport FanZone which was an exciting feature of the Australian Grand Prix atmosphere bringing the F1 excitement into the "Grand Prix City" of Melbourne.
The Australian Grand Prix at Albert Park has played an important part in the history of In Pit Lane which this year shares its 23rd anniversary with the move of the race to Melbourne.
"There was a sense of excitement when the GP came to Melbourne, we used that to push for us to bring In Pit Lane to television on OptusVision and Troy Schembri began F1 Merchandising having all the onsite Merchandise at Albert Park.
OptusVision is long gone but the Grand Prix, Troy Schembri and In Pit Lane are still here and very much a part of the Melbourne Motorsport landscape"
With Australian driver Daniel Ricciardo joining Renault this year, the French Auto manufacturer will have a featured place at this year's Motorsports FanZone with Renault Production Car Display, F1 Car display and famous chalk artist drawing Daniel Ricciardo portrait. Race fans can take a picture of themselves on the Renault F1 Podium, and there's even a giant Daniel Ricciardo adorning one of Crowns famous Fire Towers, a must see.
Get information and book your very own drive with Mega Fast Karts. Get up close to Superkart display and find out how you could race Superkarts.
Check out display & meet the staff of Race Team sponsors "Royal Flair Caravans" which have contribution to young race drivers, event merchandise, memorabilia, model cars & much more.
In Pit Lane is a production of RMITV Student Television and returns to C31 Melbourne in the first week of March (time TBC)